B
i

LD saves money!

BiLD automatically evaluates and monitors the health of your buildings and equipment, alerting you when maintenance or replacement is on the horizon or when you can squeeze out that extra bit of life.
B
i

LD is not just ease, its easy too

Not everyone is a tech guru, BiLD has been designed with ease of use in mind. Updates and repair records can be uploaded with our easy process in as little as 3 clicks, and reports generated in as little as 1 click!
B
i

LD scales with you

Pay only for what you need. The assets and users you manage with BiLD can be added or removed on a daily basis, allowing you the flexibility to meet whats right for you and your organization.
B
i

LD is "Big Data"

Costs, efficiencies, lifecycles and more can be automatically compared to 1000's of similar assets providing detailed insight if your assets are preforming at optimal levels or where improvements can be made.
B
i

LD runs on anything

Information is remotely stored and accessible from any device. No need for in-house technical staff—we handle everything for you so that you and your staff can focus on what needs to be done.
B
i

LD generates revenue

Suppling equipment or services? BiLD will keep track of your customer's equipment and alert you when equipment needs maintenance or replacement. Better yet, that alert can be set to act as an automated order to purchase your products or service!
B
i

LD is for:
Administrators & Capital Planners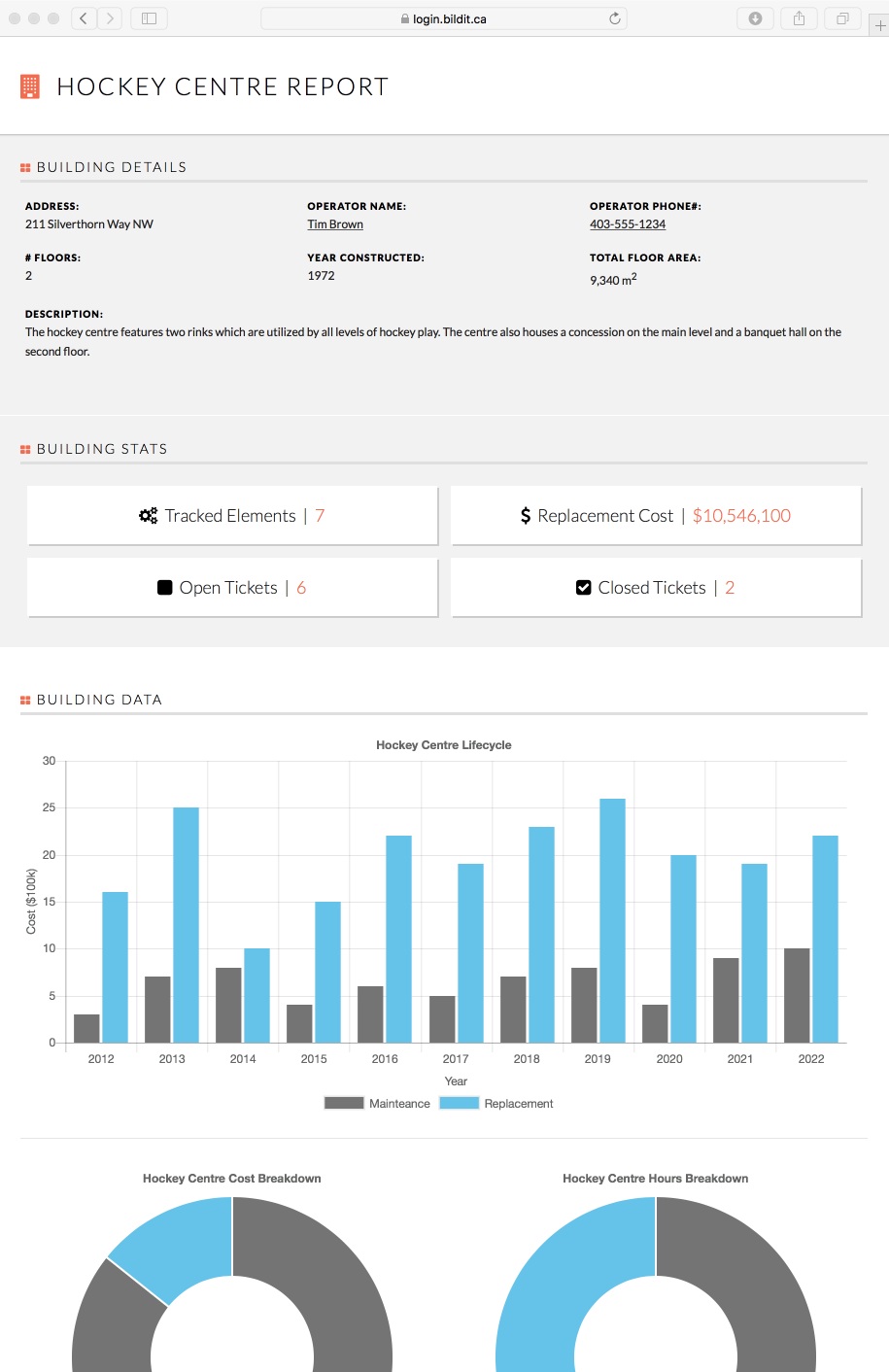 Reports and aud
i

t

i

ng

BiLD gives you the ability to run audits and reports of all your assets with just a few clicks. Find out exactly how much an asset will cost over its life and when it makes sense to replace it. On top of that, you can audit maintenance records and operational history to ensure everything is being maintained as it should.
Cost reduct
i

on

BiLD runs analytics on all the assets in its database. This allows you to compare hundreds of building factors and see how you stack up against the norm. Equipment purchase costs, maintenance costs, contractor's costs and life cycle costs can all be compared to ensure your business is doing all that it can to run efficiently.
Future plann
i

ng

No one knows it all, but BiLD knows buildings. BiLD will help you in planning for repair and maintenance of architectural, structural, mechanical and electrical components. This means no surprise repair or replacement costs, and most importantly no expensive consultants!
B
i

LD is for:
Maintenance & Operators
Easy ma
i

ntenance track

i

ng

How often do we not record something because we think it will take too long? How about contractors not recording their work orders? BiLD solves all of this. Different access levels allow operators, employees and contractors different access levels, and recording maintenance can be done with 3 easy clicks from any smartphone!
Central
i

zed informat

i

on

Lost your building drawings? Wasting time finding information for vendors? With BiLD all this is a thing of the past. Within BiLD all the data attached to a specific asset can be stored. Drawings, specifications, manuals, CAD models— anything related to an asset is only a click away!
Real t
i

me asset mon

i

tor

i

ng

BiLD allows you the ability to check in on the operation of equipment running in real time! No need to send resources to check, and no need to have expensive controls companies install outdated technology for exorbitant amounts of money. For $5/month plus the cost of the sensor, monitor your equipment, your way!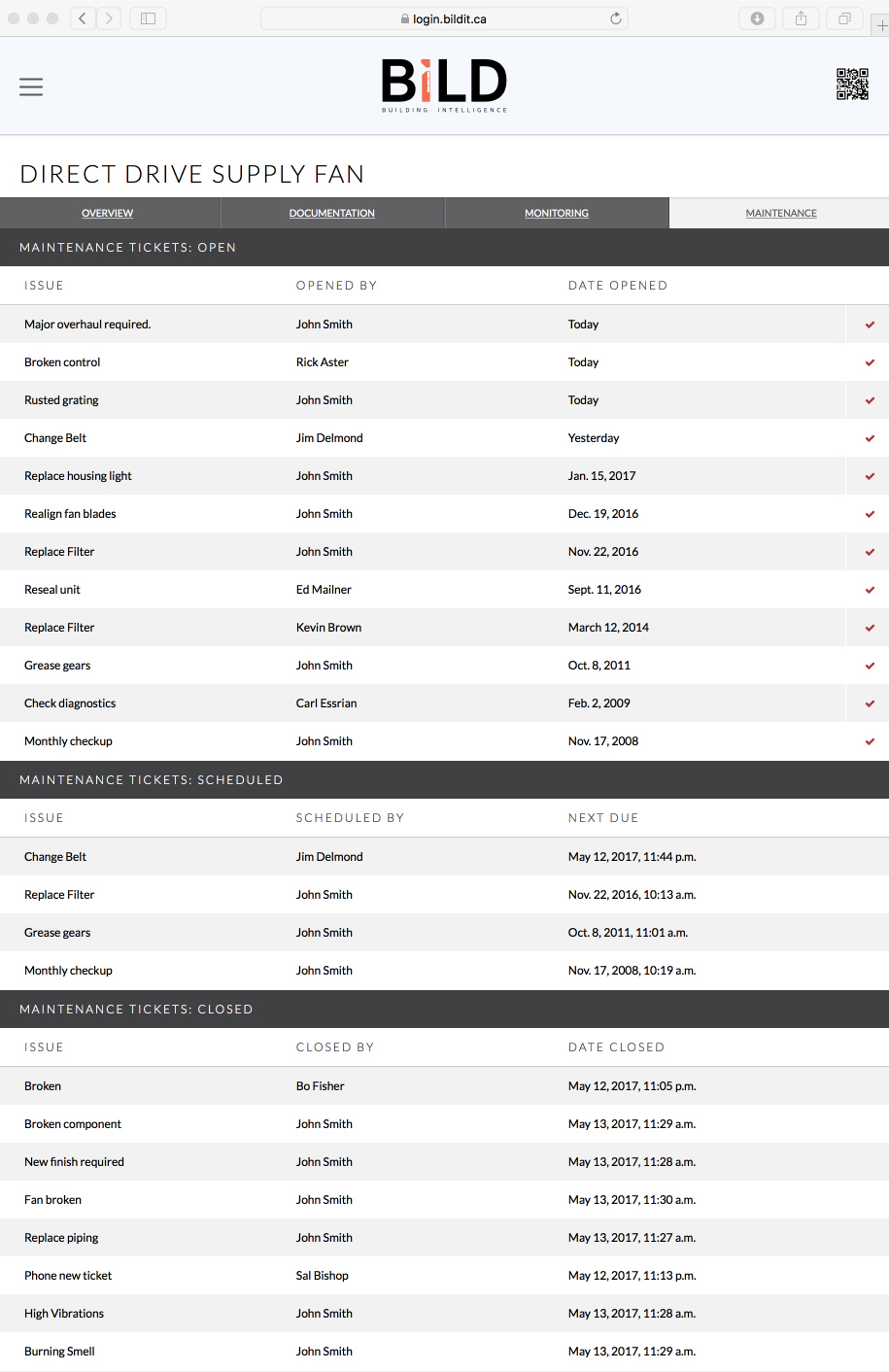 B
i

LD is for:
Contractors & Vendors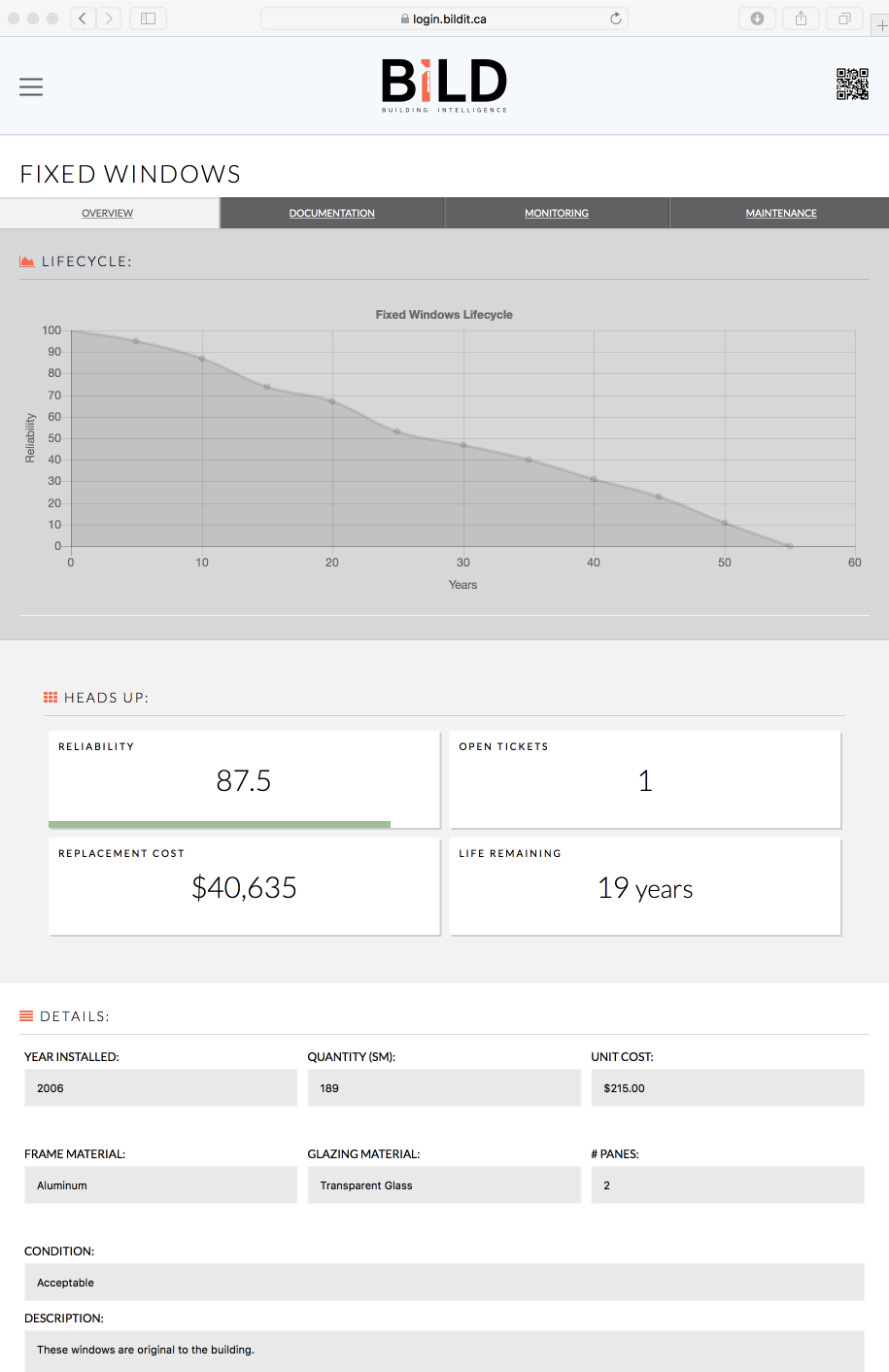 Asset database
Why take the headache of maintaining a digital database for your products in house? BiLD provides you and your clients access to equipment information anytime, anywhere! Within BiLD, all the data attached to a specific asset can be stored. Drawings, specifications, manuals, CAD models—anything related to an asset is only a click away.
Sales generat
i

on

BiLD allows you to capture sales with no effort. By signing up with BiLD and having your clients use it, you can be listed as their preferred vendor. Then, when equipment needs maintenance or replacement, you get an automated purchase order. Better yet, if you do great work, we would love to list you as a preferred BiLD vendor for those clients who don't know who to contact.
Syncron
i

zed workflow

How often are an organization's departments not communicating to third parties—let alone among themselves? BiLD is the solution. Once the problem has been established, key people involved will automatically be notified and have access to all the relevant information they need. No more wasting time on back-and-forth emails and phone calls—it's just straight to business.